Hotel Industry: 10/25-10/31
Hotel Weekly Review
Nationally, hotel occupancy was down 31.4% compared to 2019 this week. Atlanta was 2nd out of the 25 biggest lodging markets in the US for the least occupancy rate declines (-20.5%), up from last week's ranking of 4th out of 25.
The largest occupancy declines were urban (-55.6% YoY occupancy decline) and resort (-47.2% YoY occupancy decline) hotels. Urban and resort hotels declined the most compared to last week by -2.6% and -6.7% respectively. Suburban hotels (-25.5% YoY occupancy decline) and airport hotels (-38.6% YoY occupancy decline) experienced the largest recovery compared to last week– recovering by 3.6% and 3.7% respectively. The best performing hotels in terms of occupancy declines, small metro/towns (-12.7% YoY occupancy decline) and interstate (-12.4% YoY occupancy decline) hotels, recovered modestly by 0.7% and 1.5% respectively compared to last week.
Source: STR
Week of October 25th Winners & Losers
For chain scale segments, economy and midscale hotels continue to have the fastest recovery, having occupancy declines of -12% and -19.1% respectively. Compared to last week, economy hotels recovered 2.1% and midscale hotels recovered 0.5%. Upper-upscale (-60.9% occupancy), and luxury (-66.7% occupancy) hotels had the highest occupancy recovery week over week (3% and 2.5% respectively).
The worst-performing hotel locations in terms of overall occupancy compared to last year are urban (31.7% occupancy), resort (32.5% occupancy), and airport (43.3% occupancy) hotels had occupancy declines of -55.6%, -47.2%, and -38.6% respectively compared to the same week last year.
The top-performing hotel market based on occupancy recovery, Norfolk/Virginia Beach (-17.7% occupancy decline this week compared to 2019), saw its first recovery of 1.5% compared to last week since five consecutive week of occupancy declines. The worst performing hotel market, the northeastern city hotel market (New York City, Boston, Chicago), saw occupancy decline ~7% week over week. The worst performing market throughout COVID-19, Oahu Island, had an occupancy decline of 10.8% week over week after its 14.2% rally last week.
Top 6 Performing Cities by change in occupancy
| | | | |
| --- | --- | --- | --- |
| Cities | 2020 Occ | 2019 Occ | % Change |
| Norfolk/Virginia Beach, VA | 48.3% | 58.7% | -17.7% |
| Atlanta, GA | 52.5% | 66.1% | -20.5% |
| Tampa/St Petersburg, FL | 47.9% | 62.5% | -23.4% |
| New Orleans, LA | 51.4% | 74.3% | -30.9% |
| Detroit, MI | 44.6% | 65.0% | -31.3% |
| Phoenix, AZ | 47.5% | 70.2% | -32.3% |
Worst 6 Performing Cities by change in occupancy
| | | | |
| --- | --- | --- | --- |
| Cities | 2020 Occ | 2019 Occ | % Change |
| Oahu Island, HI | 14.0% | 79.8% | -82.4% |
| New York, NY | 27.4% | 87.1% | -68.6% |
| San Francisco/San Mateo, CA | 29.1% | 80.7% | -63.9% |
| Orlando, FL | 26.0% | 67.2% | -61.3% |
| Chicago, IL | 28.3% | 67.4% | -58.0% |
| Boston, MA | 31.9% | 75.6% | -57.8% |
Source: STR
Hotel Industry Updates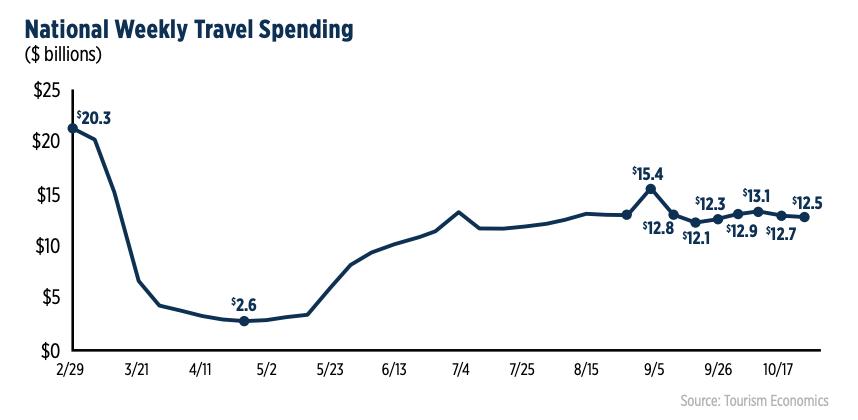 Before the coronavirus pandemic, the travel industry contributed $2.6 trillion to
the economy and supported 15.8 million American jobs overall—8.9 million directly—and delivered a $69 billion trade surplus last year. Travel was a #2 overall export for the U.S. with one-tenth of every state employer being involved in travel. This year, travel decline spending is expected to decline $505 billion representing a $1.2 trillion economic loss.
Travel spending contracted again in the week ending October 24th, falling 2% from the prior week. The percentage loss from 2019 worsened once again to -44% from down -43%. The travel industry was 44% below last year's levels for the week of October 24th, resulting in a $9.7 billion loss when compared to the same week a year ago.
Source: WEEKLY CORONAVIRUS IMPACT ON TRAVEL EXPENDITURES IN THE U.S.
Atlanta Hotel Updates
Industry experts, from CBRE/STR, believe it will take Atlanta until 2024 to get back to 2019 RevPAR (Revenue Per Available Room) performance, said David Marvin, president of the hospitality company Legacy Ventures citing "Recovery will be slow until there is a widely available [Covid-19] vaccine and citizens are comfortable taking it." Marvin also mentioned "Resort and destination locations have been faring better through the summer travel season, and more suburban and roadside properties have experienced stronger occupancies, however, average daily rates continue to be down significantly from prior-year levels" and followed on by explaining "Airport and urban markets that rely more on convention and group travel are faring worse, as these segments will come back much slower."
As revenues are down at least 50% compared to 2019, many hospitality/travel investors are having to inject cash into their investments to cover operating expenses. From an investor perspective, COVID-19 is presenting new opportunities where owners who were ready to sell pre-pandemic and no longer wish to put money into their projects are willing to sell at discounted prices. Investors recognizing opportunities to purchase distressed hotels have to work with creative financing solutions in order to fund the deals as traditional senior bank loans are sidelined as they work through their own hotel loan exposure. "As a result, acquisition opportunities in the lower-scale segments have seen a smaller value discount while upscale and full-service properties are starting to trade at significant discounts as investors solve for a price that will allow them to hit return targets during the economic recovery that will come," Marvin explained.
In terms of chain scale segments, mid-budget hotels have a leaner operating model and thus are better at controlling costs. Greg Friedman, managing partner and CEO of Peachtree Hotel Group which operates and invests in hotels across the Southeast, mentioned: "the valuations for both luxury and mid-budget have both been materially disrupted, but luxury assets have much greater volatility, with high highs and low lows in terms of cash flow and valuation."
In summary, hotels with simpler operations, like minimal food and beverage options and conference facilities, are less expensive to operate and therefore may rebound quicker than group-dependent hotels. Tourism, conventions, and corporate demand are key sources of revenues for hotels, and all three are highly impactful in a destination market like Atlanta for a speedy COVID-19 recovery.
Atlanta events still active:
Atlanta Celebrates Photography, October 1-31 2020
Major Atlanta events that were cancelled/moved virtual:
CANCELLED Anime Weekend Atlanta, October 29 – November 1 2020
CANCELLED North Georgia State Fair
CANCELLED Festival on PoncE
CANCELLED Little 5 Points Halloween Festival and Parade, October 31th 2020
RESCHEDULED Atlanta Mimosa Festival, 2021
VIRTUAL EVENT ATL Hip Hop Day, October 30 2020
Week Of October 25th Hotel Report: Good And Bad News
Good News
Southwest Airlines to launch service to Savannah
Brookhaven continues march south of I-85 with annexation of 28 acres for future development
Bad News
Up to 80% of metro Atlanta's hotel workers have been laid off over COVID-19, experts say
Nearly 500 Atlanta-based Delta Air Lines pilots face furloughs Nov. 1