October 8, 2020
What's New this Week:
Mobility and COVID-19 Cases
Rachel T. Panik updated her article on Mobility in Georgia to include a discussion on Mobility and COVID-19 Cases:
Because COVID-19 is easily spread when people come into contact, there may be a correlation between the number of positive COVID-19 cases and mobility scores.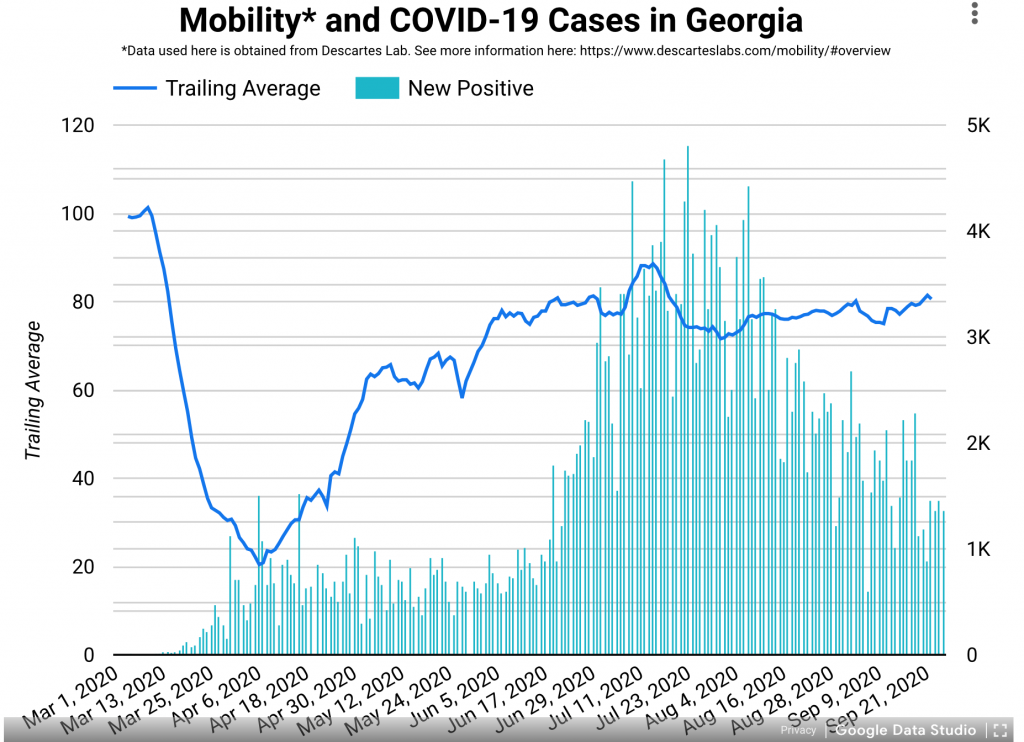 The most recent spike of COVID-19 cases in Georgia began in late June and increased steadily until mid-August. During that time, mobility rates fluctuated, with a spike in mobility around the July 4th holiday and notable decreases in late July and early August. What appears to be the peak of this spike in COVID-19 cases came within 3 weeks of the spike in average mobility in July. Given the virus' several week incubation period, this indicates that there is some kind of relationship between this mobility metric and the number of cases.
Throughout August, though, this relationship became less clear. From mid-August until late September, mobility measures have remained somewhat constant, fluctuating between 75% and 80% of mobility under normal circumstances (which is not much lower than the 88% peak). During this time, however, cases of COVID-19 have decreased steadily. This could indicate that people have found a new mobility equilibrium and that they are managing to do so in a safe way, likely going to destinations that allow them to socially distance in well-ventilated spaces/outside while wearing masks. Further tracking of travel patterns and positive test rates will provide more insight here.
Recent Site Updates