5/3-5/9 Weekly Hotel Report: Summary
Week of May 3rd Overview
May 3rd occupancy rates were down 55.9% nationally compared to 2019. Atlanta was 4th out of the 25 biggest lodging markets in the US for the least occupancy rate declines (51.9%). Atlanta was able to fair better than other cities due to the large volume of independent and midscale hotels. The city has also benefited from the southeast airport hub, Hartsfield Jackson, having an increase in throughput traffic.
As depicted on the charts below, Atlanta's occupancy rate has fallen by at least 50% each day compared to 2019, but still has outperformed the national occupancy rate average.
Week of May 3rd Winners & Losers
The table below, filtered by occupancy rate declines, showed which chain scale segments fared the best this week.
Top 5 Performing Cities by change in occupancy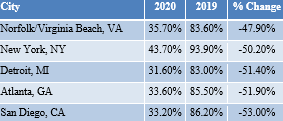 Worst 5 Performing Cities by change in occupancy
Atlanta Hotel Updates
Marriott operates the largest and 4th largest hotels in Atlanta: Marriot Marquis (1,663 rooms) and The Westin (1,073 rooms) has furloughed or laid of a majority of its staff until June 30th. This has fallen in line with other operators laying off or furloughing staff until occupancy starts to rise. On an optimistic side, Ashford Hospitality was given 40 loans on different hotel properties for a total of $35M. Some of the money will go to Atlanta hotels such as Ritz-Carlton ($3.3M) and Hotel Indigo ($263K) along with two Hampton inns and a Courtyard (totaling upwards to $290k). This will be used to help pay hotel staff and reduce the amount of staff furloughed or laid off.
Over the week of May 3rd, Atlanta was able to have lower overall declines than the national average in all 3 hotel KPI's. This was spurred by a higher concentration of upper midscale, midscale, and independent hotels providing lodging for travelers coming from Hartsfield Jackson to Atlanta.
week of may 3rd Hotel Report: Good and Bad News
Good News
Hartsfield Jackson TSA screened more than 250,000 people on May 15th – exceeding a quarter million for the first time since March 24th
Four seasons hotel in Atlanta set to reopen May 15th after furloughing 109 employees in April.
Students seeking temporary shelter and medical professionals have been propping up occupancy rates
Hilton Atlanta and Embassy Suites Atlanta are part of the Hilton and American Expresses partnership to donate 1 million rooms to frontline medical professionals
Bad News
Atlanta Hotel Investment Conference cancelled
InterContinental Buckhead Atlanta laid off 210 employees indefinitely on March 23rd (16th largest hotel in Atlanta)
As of April 24th, 60-70 hotels in the metro Atlanta area were closed
Hyatt Regency, Hyatt Place, and Grant Hyatt will not be accepting room reservations until June 1st, 2020
Sheraton Atlanta (6th largest hotel in Atlanta) closed on April 7th and plans to reopen on June 1st